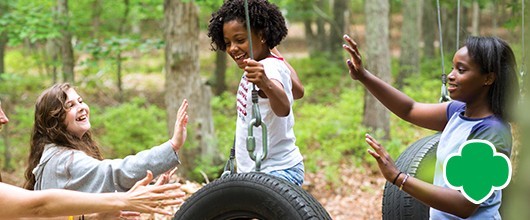 Invest in girls. Change the world.
Your gift will directly impact a Southern Illinois Girl Scout, helping her on an extraordinary journey to unlock her full potential. You can help by making your gift to the Girl Scouts of Southern Illinois today!
$75
Believe in the Power of G.I.R.L.
Cover the cost of registration for three future Girl Scouts! Our proven approach gives girls the opportunities to unleash their inner G.I.R.L.
(Go-getter, Innovator, Risk-taker, Leader) ™ , prepare for a lifetime of leadership, and change the world.
$450
Send a Girl to Camp
Send a girl to one of our Resident Camps for a week. At camp she'll engage in activities such as swimming, canoeing, hiking, archery, environmental education, and rock climbing, all while developing a lifelong appreciation for nature and the out-of-doors with her fellow Girl Scouts.
$1,103
Sponsor a Robotics Team
Fund one of our all-girl Robotics teams in Southern Illinois.  Our Robotics Program gives girls a hands-on experience in engineering and computer programming while boosting their interest and confidence in STEM fields. We have interested teams in your area, but need additional funding to support this excellent opportunity for girls!

 For more information, click here to view our 2019 Annual Report!
Thank you for supporting our mission!