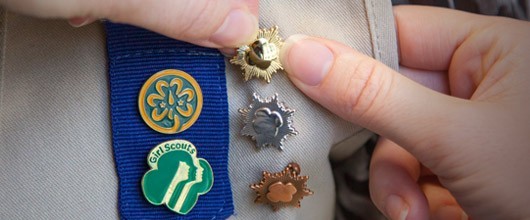 Highest Awards
Every Girl Scout goes above and beyond to make a difference in her community and the greater world. The skills and experiences she gains along the way set her up for special recognition through the Gold, Silver, and Bronze Awards.
All three awards give girls the chance to do big things while supporting issues they care about.
As you earn one of Girl Scouts' highest awards, you'll change your corner of the world—and beyond. The possibilities are endless.
The Girl Scout Gold Award is the highest achievement in Girl Scouting, is a top-tier credential for girls as they enter their post-high school lives, enabling them to distinguish themselves in the college admissions process, earn college scholarships, and enter the military one rank higher.

Earning the Girl Scout Gold Award requires a suggested minimum of 80 hours of service - no small feat for busy high school students! Girls must also ensure their projects are sustainable by creating a plan for the project to continue to make an impact over time. The Girl Scout Gold Award is the highest award a Girl Scout can earn.


Congratulations to our 2018 Gold Award Girl Scouts!