OWL Flight School and OWL & Owlette Weekend will offer adult volunteer and older girls sessions designed to increase outdoor awareness and prepare them for overnight camping, outdoor adventures and outings!
Continue >

April is Volunteer Appreciation Month—and what better way to say thanks to our dedicated volunteers than with a discounted lifetime membership for volunteers with ten or more years of service?
Continue >

We're so excited for our 10th Annual Meeting and 2019 All That Glitters Award Ceremony on April 27! Rend Lake College is located at 468 North Ken Gray Parkway in Ina, Illinois. GSofSI's Annual Meeting check-in starts at 7 a.m. and All That Glitters check-in starts at 1 p.m.

Continue >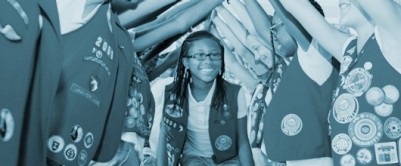 All year long Girl Scouts unleash their ultimate potential to do amazing things for themselves and their communities. Bridging ceremonies are the perfect time to stop, take stock of every awesome adventure, and celebrate as we embrace the future! Join us as our girls take their next big step in their Girl Scout journey!
Continue >