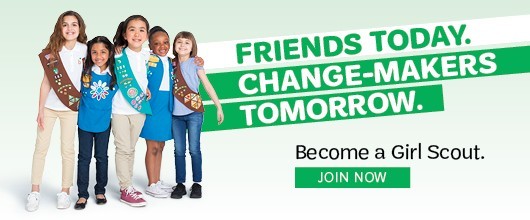 Unleash Strong! Be a Girl Scout!
When you unleash your inner G.I.R.L., you can accomplish anything!
At Girl Scouts, the next opportunity to stand up, speak up, and take the lead is never far away. With us, you'll discover the G.I.R.L. (Go-getter, Innovator, Risk-Taker, Leader)™ in you, and watch her shine, again and again.
Will you find a sustainable solution to a problem in your community? Will you explore the great outdoors? Build a robot? Learn to code? Conduct an experiment?
With us, the possibilities are truly endless. Discover all you can be and everything you can accomplish when you have the right tools and a safe space to shine—and work together to change the world. 
So what are you waiting for?
 

Looking for an upcoming Girl Scout recruitment event in your area?

GSofSI Financial Assistance

Financial assistance is available to help both girls and adults who might otherwise be unable to participate in Girl Scouting. Assistance can be requested to help cover the fee for membership to the Girl Scouts of the USA and uniform components.
Financial Aid can be requested online through the membership community or by filling out a paper form and submitting to GSofSI!
Already a Girl Scout? Log in to renew!